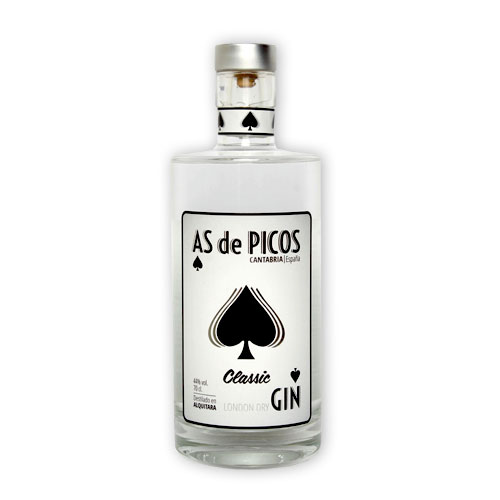 GINEBRA AS DE PICOS CLASSIC (GIN)

Characteristics:
Premium Gin of the highest quality handcrafted with water from Los Picos de Europa and botanicals distilled in the traditional Alquitara. It is fine, enveloping and very aromatic in nose, and invites to enjoy it alone, as it has always been done with the pure distillates in these lands, and has a dry mouth, long and elegant, getting an ideal balance for all kinds of combinations and preferences.
Botanicals: juniper, cardamom, ginger, te from the mopuntain port, lily root, elderflower, lemon from Novales, mandarin, grapefruit, orange, liquorice, coriander, Angelica root + three secrets of Picos.

Alcohol Grade: 44%vol.

Available in bottles of 70 and 20 cl.
Not suitable for children and pregnant women.
For its extraordinary quality in a short time, this gin has been placed among the best handcrafted gins:
SILVER Gin International Wine & Spirits Competition LONDON 2017
SILVER Gin-Tonic International Wine & Spirits Competition LONDON 2017
GOLD International Wine & Spirits Awards 2017
GOLD Best Value CHINA Wine & Spirits Competition 2018
GOLD International Catavinum World Wine & Spirits Competition 2018
GOLD International Wine & Spirits Awards 2018
GOLD Top Wine & Spirits 2018
GOLD Wine Up Best Wine & Spirits Guide 2018
Two stars GOLD Superior Taste & Quality Institute BRUSSELS 2018
SILVER Gin International Wine & Spirits Competition LONDON 2018
SILVER Gin-Tonic International Wine & Spirits Competition LONDON 2018
GOLD Cathay Pacific HONG KONG International Wine & Spirits Competition 2018
GOLD International Challenger Gilbert & Gaillard FRANCE 2018
GOLD Catavinum World Wine & Spirits Competition 2019
SINGAPORE SILVER Taste Awards 2019
GOLD Top Wine & Spirits 2019
Two stars GOLD Superior Taste & Quality Institute BRUSELAS 2019
GOLD SINGAPUR Taste Awards 2020
GOLD LONDON Awards 2020
GOLD Catavinum World Wine & Spirits Competition 2020
GOLD Gilbert Gaillard International Challenge France 2020
SILVER America Awards 2020
GOLD Frankfurt International Trophy 2020
GOLD International Top Wine & Spirits 2020
SILVER International Wine & Spirit Competition London 2020
SILVER Gin International Wine & Spirits Competition LONDON 2020
PLATINO SIP Spirit International Prestige Awards 2020 USA
SILVER USA Spirit Ratings 2020
GOLD Singapur Taste Awards 2021
GOLD London Awards 2021
GOLD America Food Awards 2021
GOLD Frankfurt International Trophy 2021
GOLD Top Wine 2021
GOLD International Wine & Spirits Awards 2021
BRONZE International Wine & Spirit Competition Londres 2021 (IWSC)
SILVER Gin Tonic-International Wine & Spirit Competition Londres 2021 (IWSC)
GOLD London Awards 2022
SILVER International Wine & Spirit Competition Londres 2022 (IWSC)
SILVER London Spirits Competition 2022
GOLD Top Wine 2022
GOLD America Awards 2022
GOLD International Wine & Spirits Awards 2022