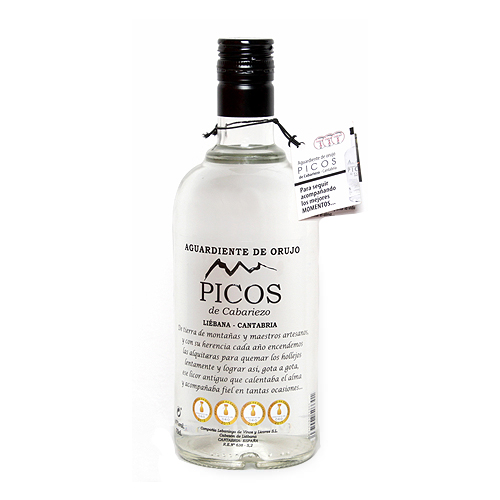 AGUARDIENTE DE ORUJO
Highly pure grapa marc of high quality crafted in the traditional Alquitara, obtaining the old traditional schnapps, clean and transparent, very aromatic and fruity with touches of grape raisins in nose that last. In mouth it is delicate with flavors of grape in liquor, having a pleasant step and warming once it arrives at the stomach, being in addition very digestive, ideal to finish the meals.

Alcohol Grade: 47%vol.
Available in bottles of 70 and 20 cl.
Not suitable for children and pregnant women.
For its extraordinary quality this brandy is one of the most awarded artisan marc in the country:
Alquitara de ORO best grape marc in four years: 2012-2013-2016-2017
BRONCE International Wine & Spirits LONDON 2016
SILVER Catavinum World Wine & Spirits Competition 2016
GOLD International Wine & Spirits Awards 2017
GOLD Catavinunm World Wine & Spirits Competition 2018
GOLD Top Wine & Spirits 2018
BRONCE International Wine & Spirits Competition LONDON 2018
GOLD Wine Up Best Wine & Spirits Guide 2018
GOLD International Wine & Spirits Awards 2018
GOLD Catavinum World Wine & Spirits Competition 2019
GOLD Top Wine & Spirits 2019
SILVER Catavinum World Wine & Spirits Competition 2020
GOLD America Awards 2020
GOLD International Top Wine & Spirits 2020
SILVER International Wine & Spirit Competition London 2020
BRONZE USA Spirit Ratings 2020
SILVER America Food Awards 2021
GOLD Top Wine 2021
GOLD International Wine & Spirits Awards
GOLD International Wine & Spirit Competition Londres 2021 (IWCS)
SILVER International Wine & Spirit Competition Londres 2022 (IWSC)
GOLD Top Wine 2022
GOLD International Wine & Spirit Awards 2022