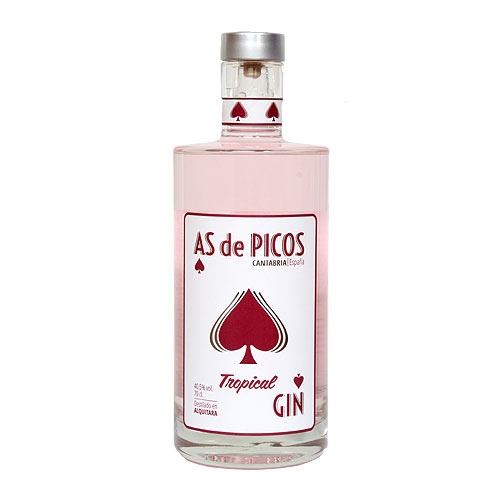 GIN TROPICAL AS DE PICOS
It is exactly the same Premium Gin, with a slight maceration of fruits (lychee, mango, pineapple and raspberry, among others) that provide sweet touches but keeping that special essence, which is distilled drop by drop in the traditional Alquitara.
It has a very soft pink colour and sweet aromas predominate, although the final aftertaste has the particular nuances and personality of the distillate.
Alcohol content: 40.5%.
Available in 70 cl bottles.
Not suitable for children or pregnant women.
PRIZES
SILVER International Wine & Spirits: 2018 Awards
GOLD Wine Up Best Wine & Spirits Guide 2018
SILVER Catavinum World Wine & Spirits Competition 2018
BRONCE Cathay Pacific HONG KONG International Wine & Spirit s Competition 2018
SILVER Catavinum World Wine & Spirits Competition 2019
SINGAPORE GOLD Taste Awards 2019
SILVER Catavinum World Wine Spirits Competition 2020
GOLD Gilbert Gaillard International Challenge France 2020
GOLD International Top Wine & Spirits 2020
DOUBLE GOLD SIP Spirit International Prestige Awards 2020 USA
GOLD America Awards 2021
GOLD Top Wine 2021
GOLD International Wine & Spirits Awards 2021